Winter session starts January 10th, 2021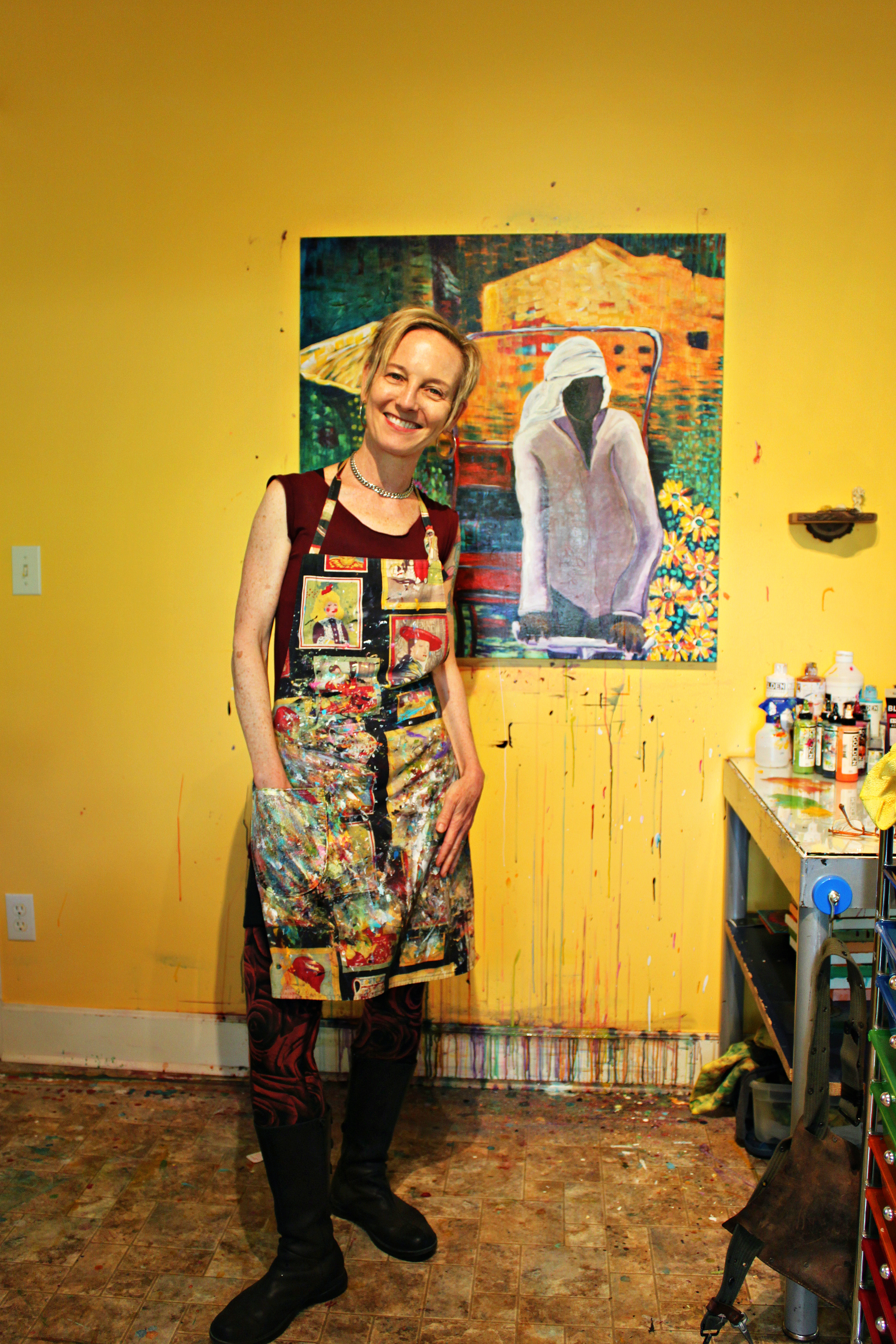 Hi, I'm Diane Sherman
I am an artist and yoga teacher and I'm passionate about creativity, self-inquiry and living authentically. 
Ever since I was a little girl, I knew I wanted to be an artist. But self-doubt got in my way, and as a young adult, I needed to get a "real" job to pay my rent. But my passion to be an artist never faded. All through my 20s I was determined to find my self-expression so I took writing, dance, art and painting classes.
Then one day, in my early 30s, I found myself standing in front of a gorgeous painting in San Francisco's Grace Cathedral. I was mesmerized. I tracked down the artist – who subsequently became my mentor and friend – and he laid out my path for me telling me of  JFK's Master's Program in Art's & Consciousness Program. It was a study of Art and Spirituality wrapped into one!
I was in heaven. 
The day I said "yes" to the A&C Program my life changed. I turned all of my attention to making art and delving into human consciousness – my own. I wanted to understand the range of human emotions.
For the past 25 years my journals have been a place of experimentation, curiosity, discovery. They have been a place to express my feelings through creative expression as well as a place of refuge from the world. They've helped me become my own best friend through deep self-inquiry. I've learned to ask my own guiding questions in the intimate pages of my journals.
They've also been a springboard for my painting practice.
I've been blessed to have led hundreds of workshops over the past 25 years guiding people towards their own authentic expression through self-inquiry, yoga and the creative process. I'd love to be your guide too!
It's Your time!
Cultivate your creative curiosity and develop a habit of self-reflection that is joyful, fun and deep and gives you a place to express your feelings, get clarity about your life and express your creativity. 
Do you take time to check in with your HEART? Often, we don't. There's so much on the to-do list, we don't make time to connect with ourselves and our feelings.
You don't think you're creative, right? Art is just "not for you"! I'm here to tell you, it is. If you have a longing to express yourself creatively, art journaling is an incredible practice that gives you space to discover your creative expression. JUST as you ARE!
With so many people depending on you, kids, parents, bosses, you probably often neglect the one who needs a little TLC – yourself. Art journaling is a playful way to connect with your soul's longing and helps you fill up from inside so that you can be there for those who need you.
Introducing
Journaling HeART
Ignite Inner Inspiration & Cultivate Creative Curiosity
Journaling HeART is offered in 7 learning modules. Each module is released on Sundays over 7 weeks and includes videos, downloadable tools and skill building exercises and the opportunity to apply the content immediately in your journaling practice.
You'll be cultivating creative curiosity while igniting your own inner inspiration through the art journaling practices offered.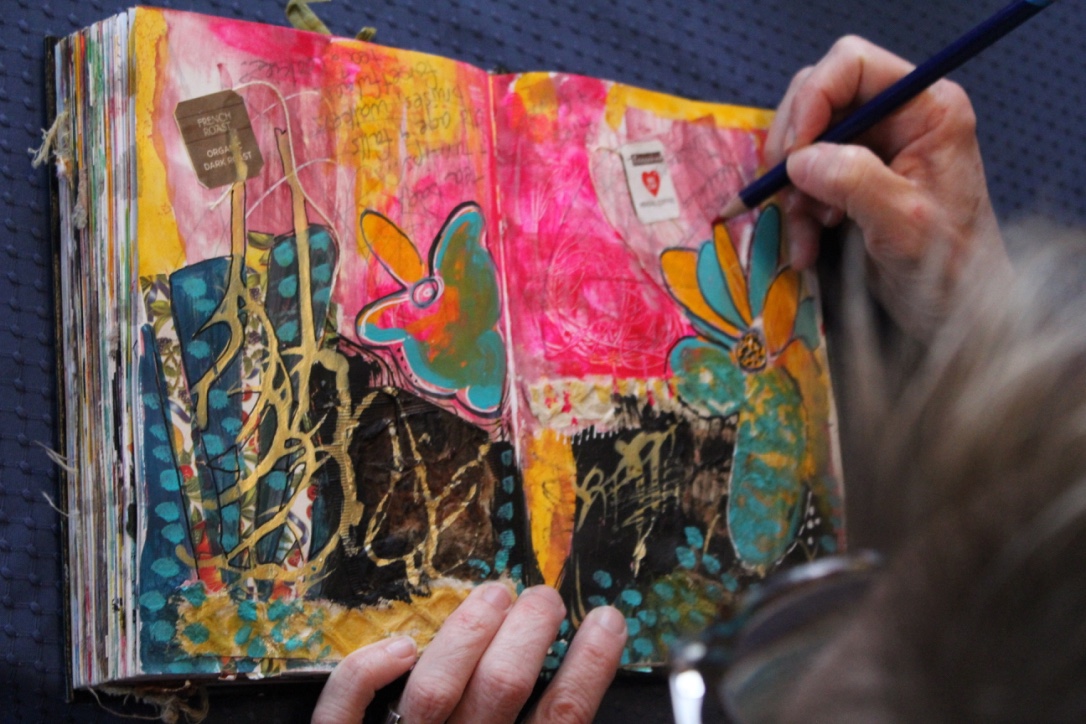 Cultivate Creative Curiosity
You'll discover how cultivating a true sense of curiosity invites magic into your life as well as into your creative practice. Curiosity allows you to stay open to possibilities you couldn't even imagine.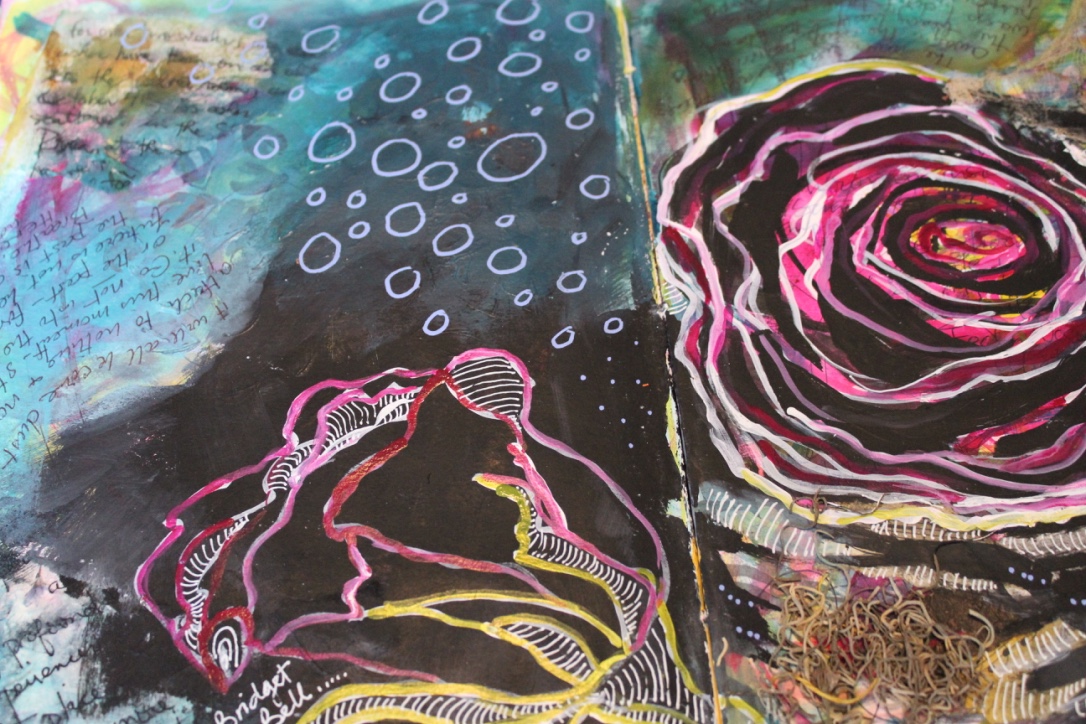 Ignite Inner Inspiration
Inspiration is all around us. In this course you're invited to open your eyes, ears and heart to engage with the world in a new way. We get subtle messages everyday about life, we just have to listen more deeply.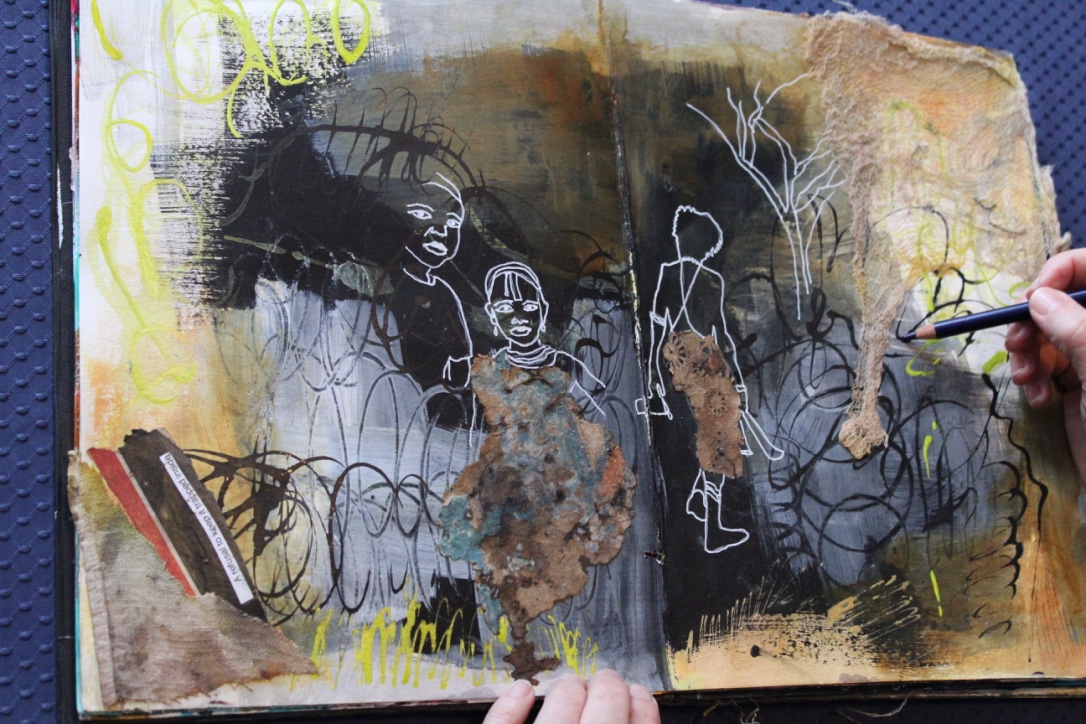 Nourish Yourself 
In a world full of to-do lists and responsibilities, if you don't take time to fill up from the inside, you burn yourself out. You'll have the opportunity to develop nourishing self-care practices that replenish you so you have more energy t show up for life.
Winter session starts January 10th, 2021
I know! You don't have time to journal!
And you believe that voice in your head that says you're just not creative. The one some adult told you way long ago!
But, you've been longing to do art for years, and you keep pushing down the desire.
You don't have time. Too much to do. The kids need help with homework, your boss needs the presentation finished and the leaves still need raking.
Doing art and doodling in a journal seems self-indulgent. 
Giving yourself come TLC is not only good medicine for you, it's good medicine for those who rely on you. If you don't fill up from the inside, you burn out and can't help anyone else.
The journal is a place to dream, express, create, experiment and get curious. It's a place to take risks and learn more about who you are right now and what your heart desires. It's a great place to process feelings you may not even know you have as well as to discover your unique creative expression.
Life is short. Follow your dreams. We really don't know what will happen tomorrow. So why wait?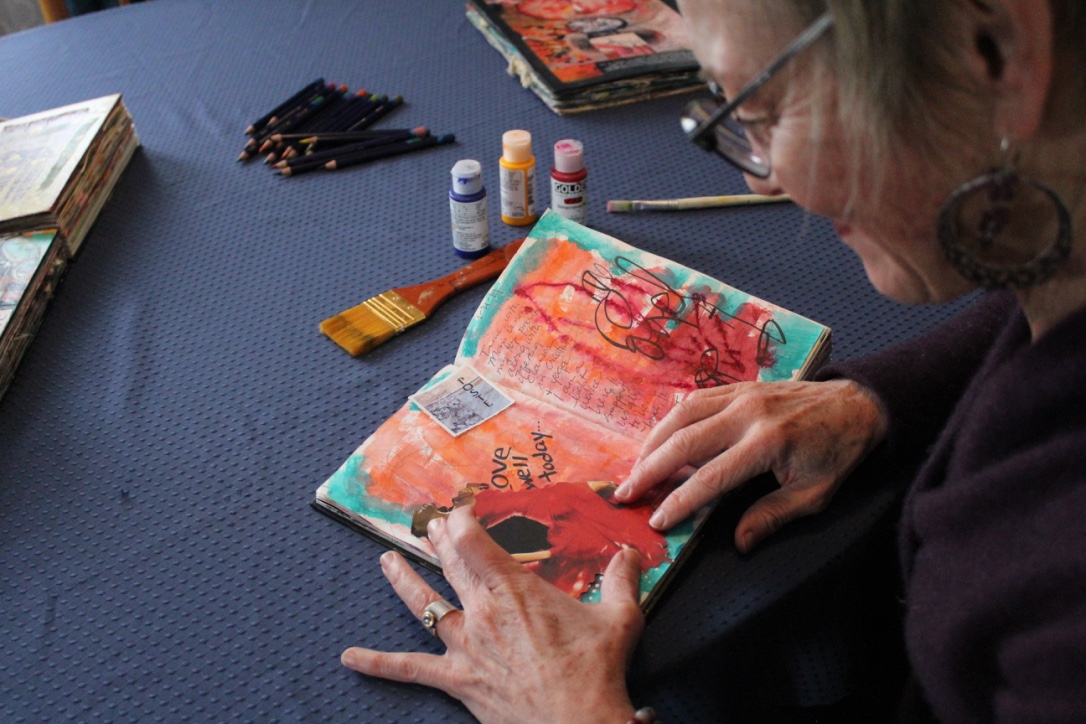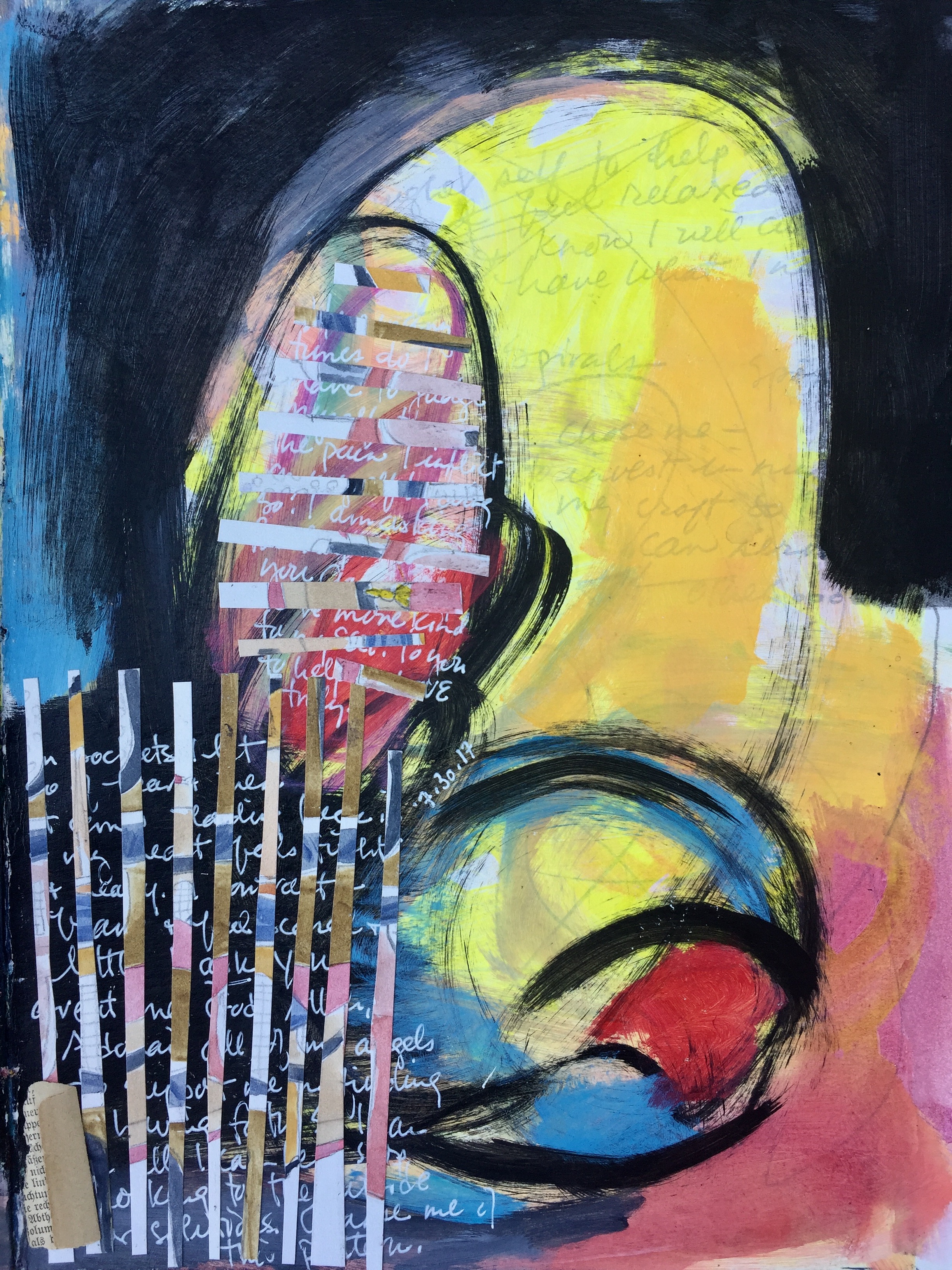 What if I've never
done any art?
Perfect! You're going to learn, step by step, to work with pens, pencils, paints and collage in your journal. I'll walk you through discovering your own unique ways to play with the art tools. The journal is a safe place to get curious about the creative process and take the first steps.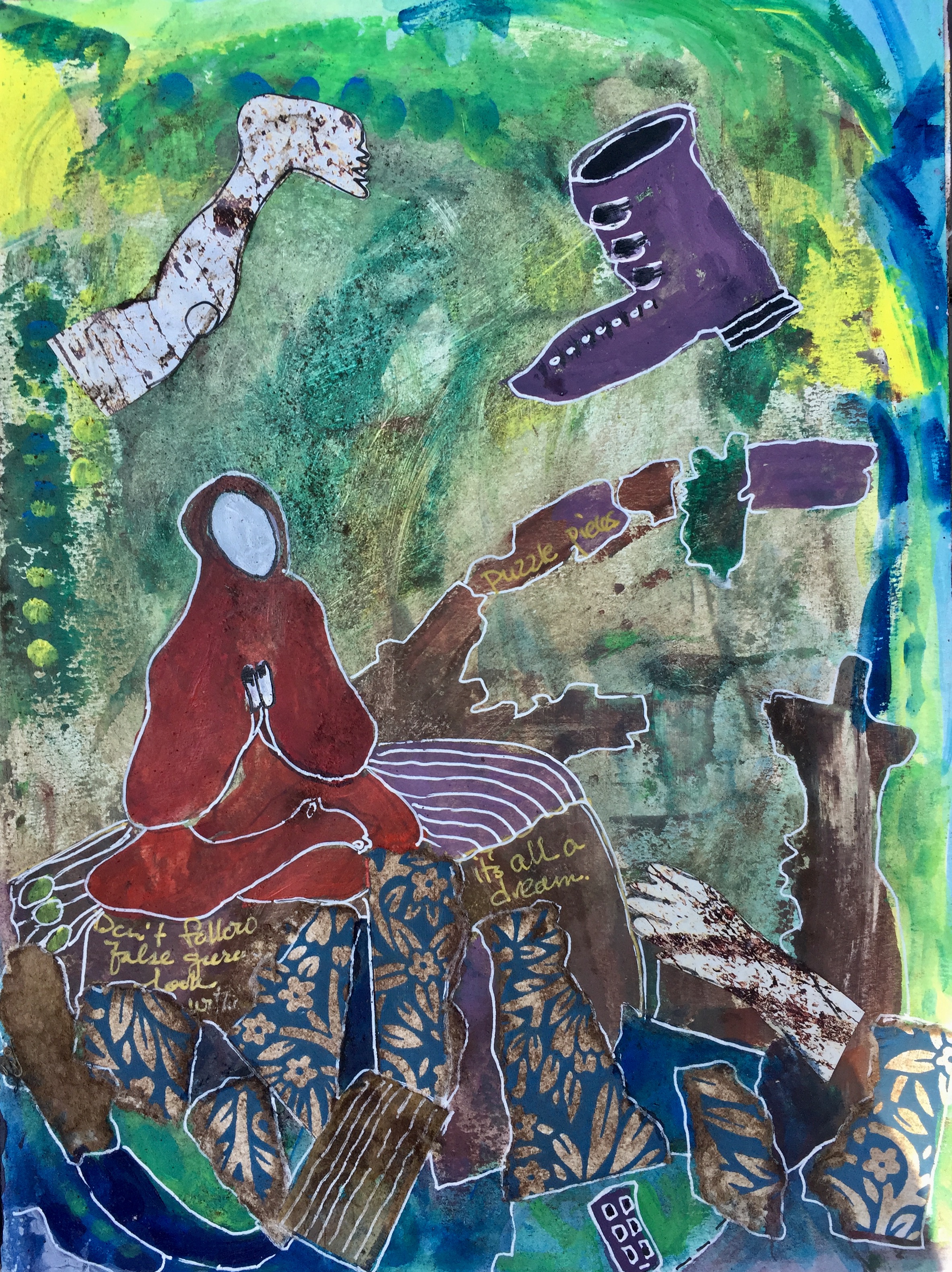 What if I've never journaled?
Again, perfect! This is a place to have a dialogue with yourself. I'll be guiding you with self-inquiry questions every week. These questions will be a jumping off point for you to make your own discoveries about your heart's desires.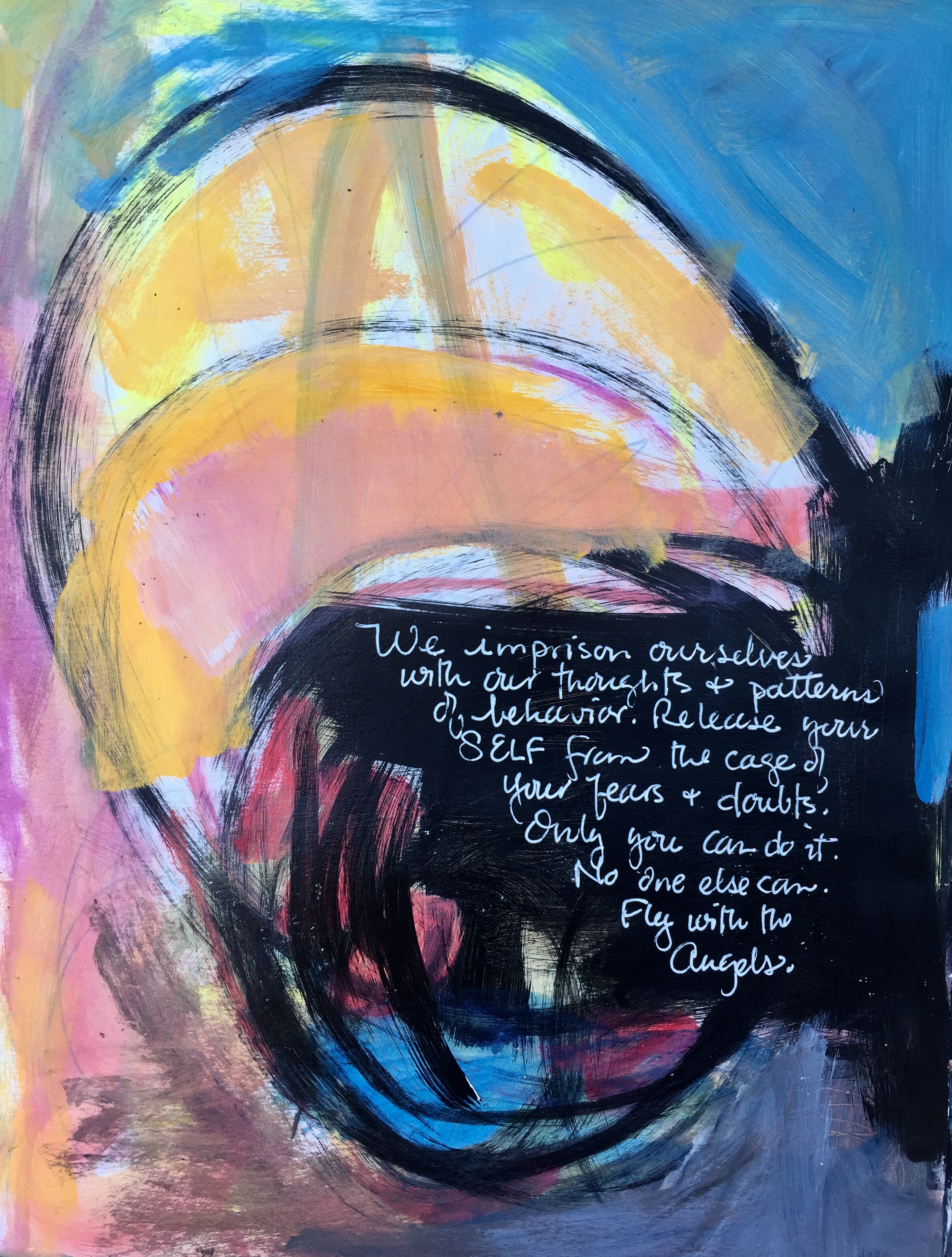 I'm afraid someone
will read my journal…
Feeling safe enough to pour your inner life onto the page is a real concern for many people. I talk about privacy in the class, how to address it.
Testimonials from Students
For decades I have used a traditional written journal with limited benefits. 
Diane's art journaling course allowed me to get beyond the limitations of the written word. Her original approach, gleaned from her own unique process, has been invaluable as I have worked through a host of experiences and feelings. This course gave me techniques to go deeper than discursive thought to the depth beneath conscious awareness.  At age 62 I had never drawn or painted and believed a story that I was not an artist. With Diane's kind and skilled teaching, I have awakened my inner artist and intend to continue with her as more teachings become available. I highly recommend this course. 
Maggie, Spokane, WA
******************************************************
Diane's course came to me at the perfect time!! I was in one of the lowest points in my life. I was devastated by betrayal and the abrupt end of my marriage and found myself reeling with so many emotions I didn't know what to do with them.
This course helped me so much by guiding me to journal my feelings and to start having a relationship with my inner life. At first, I felt scared and lonely, and then I began listening to Diane's lessons and I'd do the journaling exercises. She taught me to look inside of myself and not be afraid. I was so appreciative of her gentle guidance. Through the journaling techniques I was able to express my feelings and learn to be with myself. I also loved the poetry she read to us.
I'm grateful this course came to me at just the right time and now I have these self-care tools forever.
Manal Ghandour,  Beirut, Lebanon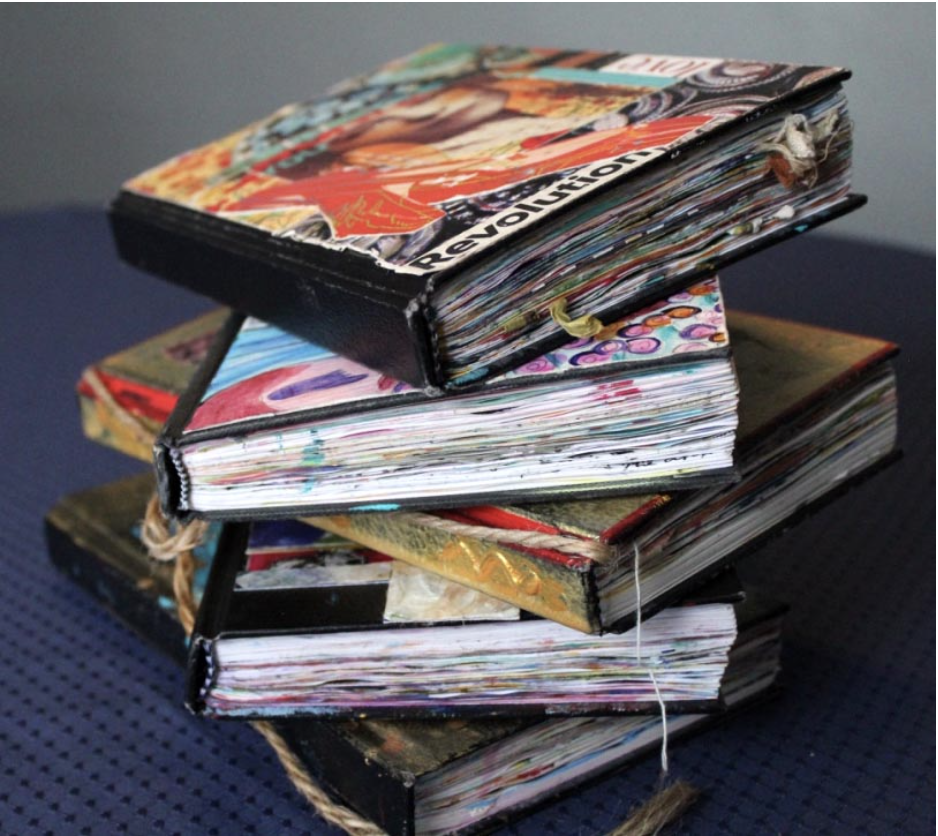 The Nuts & Bolts! Here's what you get!
The course begins on January 10, 2021
Over 7 weeks, you'll receive 7 modules
Videos, downloadable PDFs with self-inquiry questions, art instruction, poetry and self-care support
You'll learn to draw, mix color, collage, some special writing techniques, and how to ask your own questions and much more!

3 live ZOOM calls with Diane during the 7 weeks. We will set these up in the first week

Calls will be recorded in case you can't make the time they are offered

You will receive access details for the course upon registration guiding you to the first module

Access to the private Facebook Group for inspiration, community and sharing

Access to the course materials for 1-year so you can take your time doing the lessons

At the end of this course, you'll leave feeling confident using different art tools, you'll have a solid creative journaling practice and you'll have a great foundation to continue your self-inquiry.
Winter session starts January 10th, 2021
More Testimonials from Students
Prior to taking the Zen to Paper course, I was deeply struggling with the grief of losing my soulmate. It had been four years, and my joy for life had faded. Despite being an eternally optimistic spirit, it seemed like true happiness would never be something I genuinely felt again.
Diving into this art journaling class did multiple things for me. First of all, it mandated that I create space in my ridiculously busy life to take time for myself. It created quiet time, which enabled me to feel connected with my Brenda. The playful nature allowed for me to feel joy and freedom. I was also able to safely express some of the deep and painful feelings that were stirring in me. Putting the rage on paper and covering it up with art was beyond therapeutic. The self-paced nature of this course makes for no excuses not to do it. 
The shift and space in my soul as a result of this work is a gift beyond words. Diane is magic at what she does. The world will prosper from her teachings! 
Frankie Browning, Spangle, WA
******************************************************
Before I took Diane's course, I did not know what I needed! I trusted Diane's experience and was open to discovery. Most importantly, I realized that making art had to be fun! In her course, I was able to embody the sense of play, experimentation and so enjoyed the "home-play" as Diane referred to the exercises she offered.
I learned that tuning into my joy needs to be my priority and that was my biggest take away from her course.I didn't' even realize I was struggling with finding joy. It was never my priority when it came to art making, but by doing the course I now have learned to prioritize my joy over other things in art making. Thank you so much Diane, by being such a beam of light in my life! 
Roshmila Adhikary, Mumbai, India
******************************************************
Diane inhabits that unique, inspiring combination of compassion and conviction that enables her to support others honestly in their growth.
I have never thought of myself as an artist, but Diane's clear instruction provided the guidance and encouragement I needed to branch out and express myself in new and satisfying ways. It is obvious that Diane puts a great deal of thought and care into her lessons, and she asks nothing of her students that she has not wrestled with herself. I have become more confident, more daring and more vulnerable in self-expression, and learned skills that I will carry through life. Take this course: you will not regret it!
Angie N., San Francisco, CA
Winter session starts January 10th, 2021